Summer Session 2015: Looking Back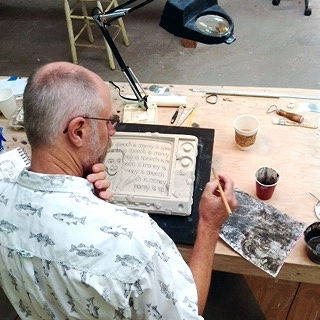 As with all carefree, summery things, Summer Session 2015 had to come to an end. It seemed to fly by, and yet the two weeks were very full, providing enough time for quite a bit to be accomplished. Our invited six artists fearlessly joined our core studio for two tremendous weeks of making. With no specific outcome required, each visiting artist brought their own approach to the mix. Time was used to sketch out ideas, create molds, test clay bodies and glazes, collaborate, and expand upon pre-existing bodies of work.
A huge thank you to our six visitors Victoria Christen, Judy Teufel, Dennis Meiners, Brian R Jones, Dylan Beck and Lisa Orr for being open to coming and making together in our studio, and for creating a fantastic debut Summer Session. And thank you Ash Street Project hosts Ted Vogel, Chris Lyon, Matt Causey, and Brett Binford for creating the welcoming and at times even hilarious backdrop. And thank YOU, community, for supporting the cup sale and dropping in for daily brown bag lunches! Year one was a huge success and we look forward to doing it next year.
In our recap discussion with the artists, it was decided that there would be a follow-up show. Since it is too soon to process the ways in which this time influenced the artists' work, we tentatively have the exhibit scheduled for February of 2016. In the mean time, please visit the links section of our website for more on each of these artists.