Collaborative Residency: Dan Anderson and Jason Sturgill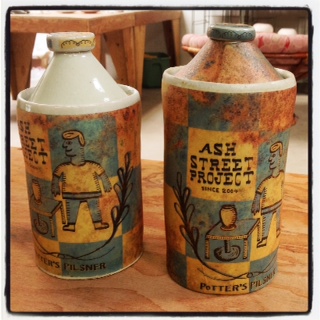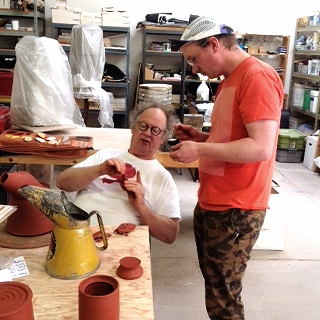 About a year ago, at the Half Pint Cafe across from the studio, we were introduced to illustrator Jason Sturgill. He had seen Matt Causey's work in the shop and was asking Marko (the owner) about it. As it turned out, he happened to be the son-in-law of ceramic artist Dan Anderson. In short time, plans were hatched for Jason and Dan to come to Ash Street Project and participate in a collaborative residency..
This week was the culmination of this project. Jason, who has worked for Nike, Laika, Wieden & Kennedy, Dark Horse Comics, and teaches at PSU, brought his illustration/design knowledge to the mix, so as to literally add a new layer to Dan's signature industrial vessels. This was new terrain for both of them, with Dan typically wood firing his work to create its rich surface history. At Ash Street, he was undaunted by the limitations of the electric kilns and worked with low-fire, conventional underglazes and glazes. He will return to sandblast the surfaces, in an effort to try and recreate that history. Jason both hand painted images and designed decals, with help from local source Ellbergen, as the final layer on top of Dan's work.
As is typically the case in these short term residencies, time flew! Dan returned to Illinois today, and Jason is soon headed to London for a comic and illustration festival. It was so wonderful to witness the collaboration of two different art forms coming together like this. There is so much to be learned from watching the problem solving process that is unique to collaboration. We are grateful that Dan is a part-time Portlander, and hope that he (and Jason) will be in and out of Ash Street when time allows.
Note: Please scroll over names, etc. for links to sites.